Home Sales
Homes sales remain stable in Canada
36,573
Seasonally adjusted annual rate of
home sales in Canada


Home Prices
Home prices in Canada remain strong.
$406,372
Actual average home
price in Canada


LATEST VIDEO
1-Year Mortgage
3.14%
3-Year Mortgage
3.75%
5-Year Mortgage
4.99%
Historical average
9.78%
THERE'S OPPORTUNITY IN EVERY MARKET!
Call today to find out what's happening in your local area and how we can help!

Home Prices
The average home price jumped 4.5% in February to $406,000. Prices remain well above last year?s with February posting a 10% year-over-year price gain. Prices are determined by a combination of inventory levels and buyer demand, both of which are volatile this time of year. Prices and inventory will both be important factors to watch as we begin to get closer to peak months for home sales.

Home Sales
A seasonally adjusted 36,573 homes sold in February, up 3.6% from last year and up 0.3% from January. February also likely suffered from sales being suppressed by severe winter weather, and we may see some pickup in home sales as weather patterns return to normal.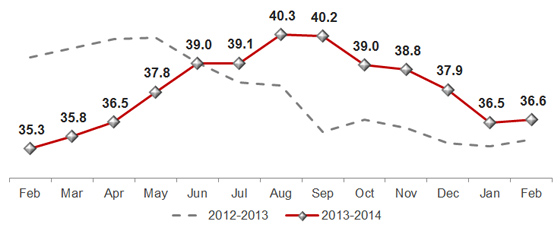 Inventory - Month's Supply
The seasonally adjusted number of new listings increased once again in February, leading the sales-to-new-listings ratio to tick down slightly to 52.1%. Inventory is a key factor in determining the rate of price growth and will be an important factor to watch in the coming year. If inventory continues to move in its current direction, the price growth may slow. With weather likely having an effect on buyer traffic, the overall market trend won?t become clear until weather normalizes for a full month, or we move into the warmer part of the year.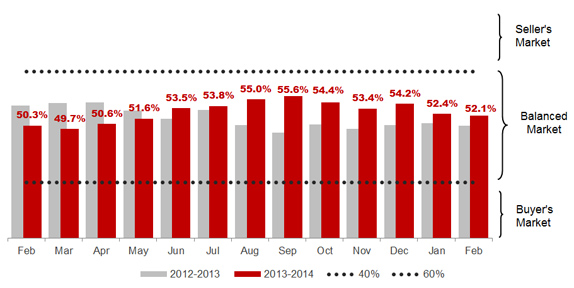 The opinions expressed in This Month in Real Estate are intended to supplement opinions on real estate expressed by local and national media, local real estate agents and other expert sources. You should not treat any opinion expressed on This Month in Real Estate as a specific inducement to make a particular investment or follow a particular strategy, but only as an expression of opinion. Keller Williams Realty, Inc., does not guarantee and is not responsible for the accuracy or completeness of information, and provides said information without warranties of any kind. All information presented herein is intended and should be used for educational purposes only. Nothing herein should be construed as investment advice. You should always conduct your own research and due diligence and obtain professional advice before making any investment decision. All investments involve some degree of risk. Keller Williams Realty, Inc., will not be liable for any loss or damage caused by your reliance on information contained in This Month in Real Estate.