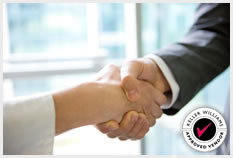 KW Realty Real Estate Search
Get the most accurate and up-to-date real estate information right at your fingertips.
Learn More
Become an Approved Vendor
Keller Williams Realty International's Approved Vendor Program is a unique opportunity for your company to be part of the Keller Williams team.
Keller Williams Realty is the largest residential real estate company in the United States.
As an approved vendor, you will have the opportunity to:
Reach an international audience of approximately 80,000 Keller Williams associates.
Reach more than 700 franchise offices throughout the United States and Canada.
Link your website directly into the Keller Williams Intranet, a system available to all Keller Williams associates.
Develop a relationship with a vendor liaison at Keller Williams Realty International.
Become licensed to use the Keller Williams trademark in your promotional materials.
Attend our Family Reunion and Mega Camp (the Keller Williams Realty International Conventions).
Sponsor large events and seminars throughout the year.
Access our company intranet with contact rosters, trademark logos, colors, designs and much more!
| | |
| --- | --- |
| Watch this video for more information on the Keller Williams Approved Vendor Program. | See firsthand how Keller Williams conventions are not to be missed. |
Interested?
The application process includes a due diligence process. At a minimum, your company must have been in business three years, have good credit, excellent business references and be able to serve our associates on an international basis.

If your company meets the minimum requirements and you would like more information, please click the button below and complete the form.