Home Sales
Home sales were down year-over-year and down month-over-month.
4.6 million
Seasonally adjusted annual rate
of home sales in the United States


Home Price
Driven by low inventory, home prices are back on the rebound.
$189,000
Average home price in the United States


LATEST VIDEO
30-Year Fixed
4.40%
15-Year Fixed
3.42%
5/1-year ARM
3.10%
Historical average
8.90%
THERE'S OPPORTUNITY IN EVERY MARKET!
Call today to find out what's happening in your local area and how we can help!

Home Prices
Median home price increased slightly in February to $189,000, up just 0.6% from the previous month. Prices remain significantly above those seen at this time last year with February posting a 9% year-over-year gain, and many sellers continue to benefit from equity gains accrued in last year?s substantial price recovery.

Home Sales
The pace of home sales remained essentially unchanged from January to February with NAR reporting an annual pace of 4.6 million homes. Sales were down 0.4% month to month and down 7.1% from the same month last year. Winter weather likely played a role in the slow pace of home sales in February, particularly in the northeast and Midwest regions of the country; however, some of the drop-off in home sales is likely attributable to a decrease in the number of distressed sales occurring around the country. NAR reported that 16% of home sales in February were distressed, down from 25% in the same month of last year. As we move out of the winter months, and lenders and consumers adjust to the changes in affordability and regulation, we should see sales begin to pick back up.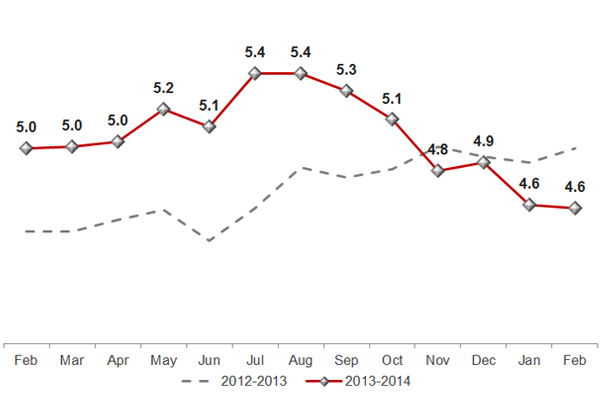 Inventory - Month's Supply
Inventory levels picked up once again with 2 million available for purchase, up 5% from last year. This represents 5.2 months of inventory at the current sales pace, which is up 13% from last year and up 6% from the previous month. As we move further into the year, we should continue to see inventory loosen, giving buyers more choices and putting less upward pressure on prices.

The opinions expressed in This Month in Real Estate are intended to supplement opinions on real estate expressed by local and national media, local real estate agents and other expert sources. You should not treat any opinion expressed on This Month in Real Estate as a specific inducement to make a particular investment or follow a particular strategy, but only as an expression of opinion. Keller Williams Realty, Inc., does not guarantee and is not responsible for the accuracy or completeness of information, and provides said information without warranties of any kind. All information presented herein is intended and should be used for educational purposes only. Nothing herein should be construed as investment advice. You should always conduct your own research and due diligence and obtain professional advice before making any investment decision. All investments involve some degree of risk. Keller Williams Realty, Inc., will not be liable for any loss or damage caused by your reliance on information contained in This Month in Real Estate.